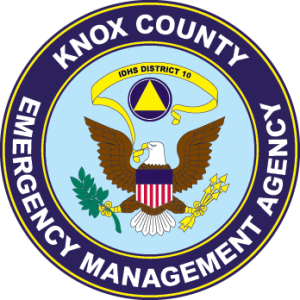 EMA EOC Activation Level
Knox County Emergency Operations Center
Level 4 – Daily Operations/Activated 
Level 3 – Emergency Support Functions (ESF) Staffing
Level 2 – All ESFs
Level 1 – All ESFs and Policy Group
County Travel Status
Travel Status Level:
**Normal**
Knox County Public GIS Map with Live Events
The Knox County Emergency Management Agency utilizes a program called Event Manager as part of a Geographic Information System (GIS) to place information on a real-time web based map to inform the public of events that may affect them. Events such as road closures, high water areas during flooding, locations of interest during incidents, and more. In addition, county based public information can be viewed on this map.
Wireless Emergency Alerts
Wireless Emergency Alerts (WEAs) are short emergency messages from authorized federal, state, local, tribal and territorial public alerting authorities that can be broadcast from cell towers to any WEA‐enabled mobile device in a locally targeted area. Wireless providers primarily use cell broadcast technology for WEA message delivery. WEA is a partnership among FEMA, the Federal Communications Commission (FCC) and wireless providers to enhance public safety.
WEAs can be sent to your mobile device when you may be in harm's way, without the need to download an app or subscribe to a service. WEAs are messages that warn the public of an impending natural or human-made disaster. The messages are short and can provide immediate, life-saving information.
Click here for more information on the WEA and Integrated Public Alert and Warning System (IPAWS)